iPage Hosting is an Endurance International Group (EIG) brand, acquired in 2010 from founder Thomas Gorny. Originally started in 1998, iPage Hosting now has offices in six worldwide locations serving over one million websites between two data centers in the U.S. Phew, that was a mouthful. There's a slight hesitation that occurs when we find out we're reviewing yet another EIG-owned company. Our experience with most of them has been, well, not great. They're big. Well known. And wildly inconsistent (typically falling somewhere between average and poor). That being said, we want to be proved wrong. Maybe iPage could, delivering stunning performance statistics that we can't deny or hide.
To find out, we set up a WordPress website on their 'Essential' shared hosting plan in June 2015. We've been running performance tests ever since to monitor the most important hosting characteristics like uptime and speed which are critical to your site (and business) success.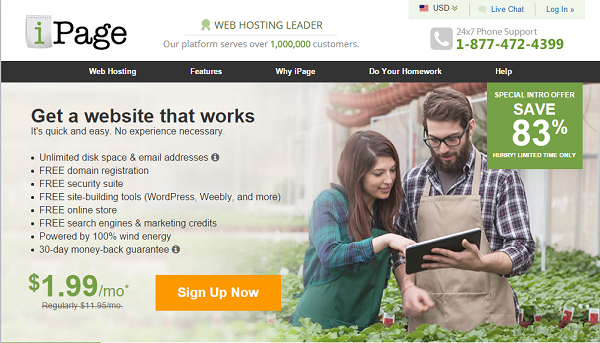 Pros of iPage Hosting
First, the good news.
iPage is perhaps the cheapest hosting option available. Like, cheap x 2.
Their support is pretty decent (albeit inconsistent), while their partnership with SiteLock can help you sleep well at night knowing someone else is worrying about the potential security problems or issues.
Here's a quick rundown of the biggest benefits to iPage.
1. Cheap, Inexpensive Hosting
iPage Hosting comes in at only $1.99 per month (only MidPhase is cheaper: $1.97), making it one of the cheapest web hosts available in the marketplace.
The great news, is that not only does this rate apply to their long-term deals (like 36 months), but also their shorter, minimum one of 12 months too.
That means you won't necessarily have to get locked into (or pay upfront) a three-year deal (like many other hosts out there required) just to get the best advertised rate.

2. Good Customer Support
You don't always expect the lowest cost provider to have good support. But iPage bucks that trend, providing decent support through phone, email and live chat.
Despite the twenty-minute connection delay, their rep answered all of our questions directly with additional helpful details along the way. We were very satisfied, especially when compared across all of the other web hosts we've reviewed this far.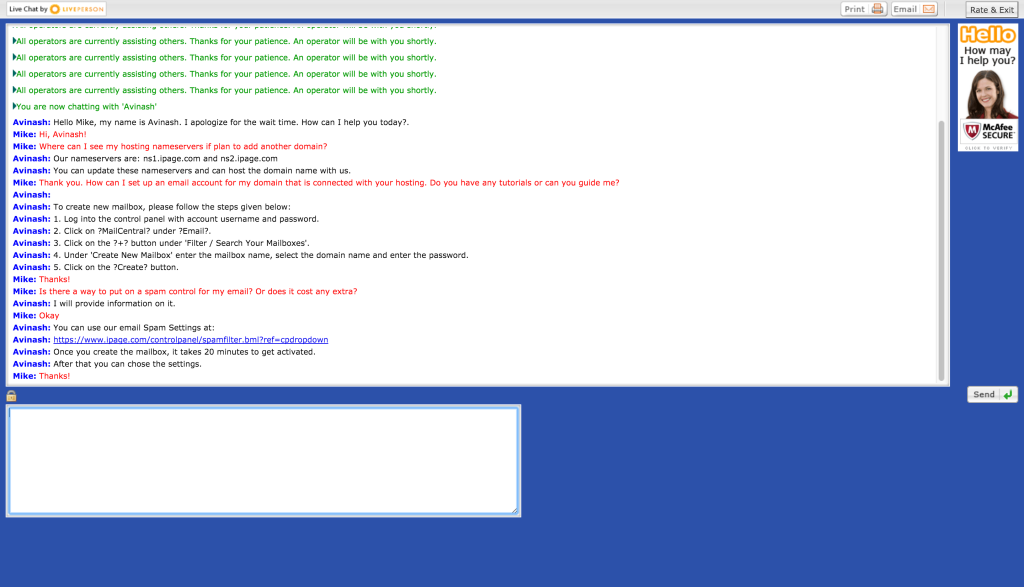 (It's worth mentioning that our background checks revealed mixed reviews. So buyer beware I guess.)
3. Enhanced Security Options
All iPage Hosting plans come with a SiteLock security suite, which is like a security frontline for your site.
Apparently, iPage and SiteLock did a user study and found that 12%+ of subscriber sites contained malware at some point in 2014.
SiteLock helps prevent unwanted security breaches by regularly scanning for malware issues. Depending on the plan you choose, this also includes them going in and removing the malicious stuff for you.
In addition, they'll use a firewall to help prevent any potential security leaks. For example, running a site with outdated plugins makes you an easy target, as updates regularly reveal where holes or breaches exist in past versions.
Best of all, they'll also include daily backups. So IF something were to happy, you can simply roll back to a prior version ASAP to get things back online.
This is a nice added bonus that many other web hosts will charge additionally for, making that super low $1.99 look even better yet.
4. Third Party Application Support
iPage plays well with others, connecting simply with Google Apps, PayPal, and more. That's especially helpful for eCommerce websites who need to handle secure payment transactions.
iPage also throws in some bonus credits on new accounts for Google AdWords, Yahoo, and Bing.
5. Upfront, Honest (Cheap) Pricing
Many web hosts appear inexpensive at first. Especially most EIG brands who are frequent perpetrators of this trick.
Things look rosy until you click 'Checkout' and discover (to your dismay) that to lock-in that great deal you've been told about thus far, you'll have to fork over three-years worth, all at once.
Fortunately, iPage is different – charging you the same monthly rate no matter which duration you'd prefer (assuming a minimum of 12 months). Honesty and transparency goes a long way in our books.
It IS worth noting however, that when this low-priced promotional period ends, get ready for a huge rate hike. Without spoiling the punchline, check out Con #3 below.
Cons of iPage Hosting
iPage's pricing is virtually unbeatable. Their customer support is pretty good too!
Unfortunately, their other performance statistics don't fair as well. Let's take a look.
1. Below Average Uptime of 99.91%
While iPage's pricing is among the cheapest we've seen, their uptime (similarly to HostGator) is among the lowest we've seen too. That's not good.
Their average uptime of 99.91% over the past twelve months is significantly lower than many of the other web hosts we've reviewed to date (and .12% better than the industry average). That abysmal distinction was evident with 148 outages and a total downtime of 8 hours during that time.
Yikes. Not acceptable. Especially if your livelihood is going to depend on this website staying online.
2016:
---
June average uptime: 99.56%
July average uptime: 99.90%
August average uptime: 99.98%
September average uptime: 99.85%
October average uptime: 100%
November average uptime: 99.99%
December average uptime: 99.89%
2017:
---
January average uptime: 99.99%
February average uptime: 99.98%
March average uptime: 99.96%
April average uptime: 100%
May average uptime: 99.87%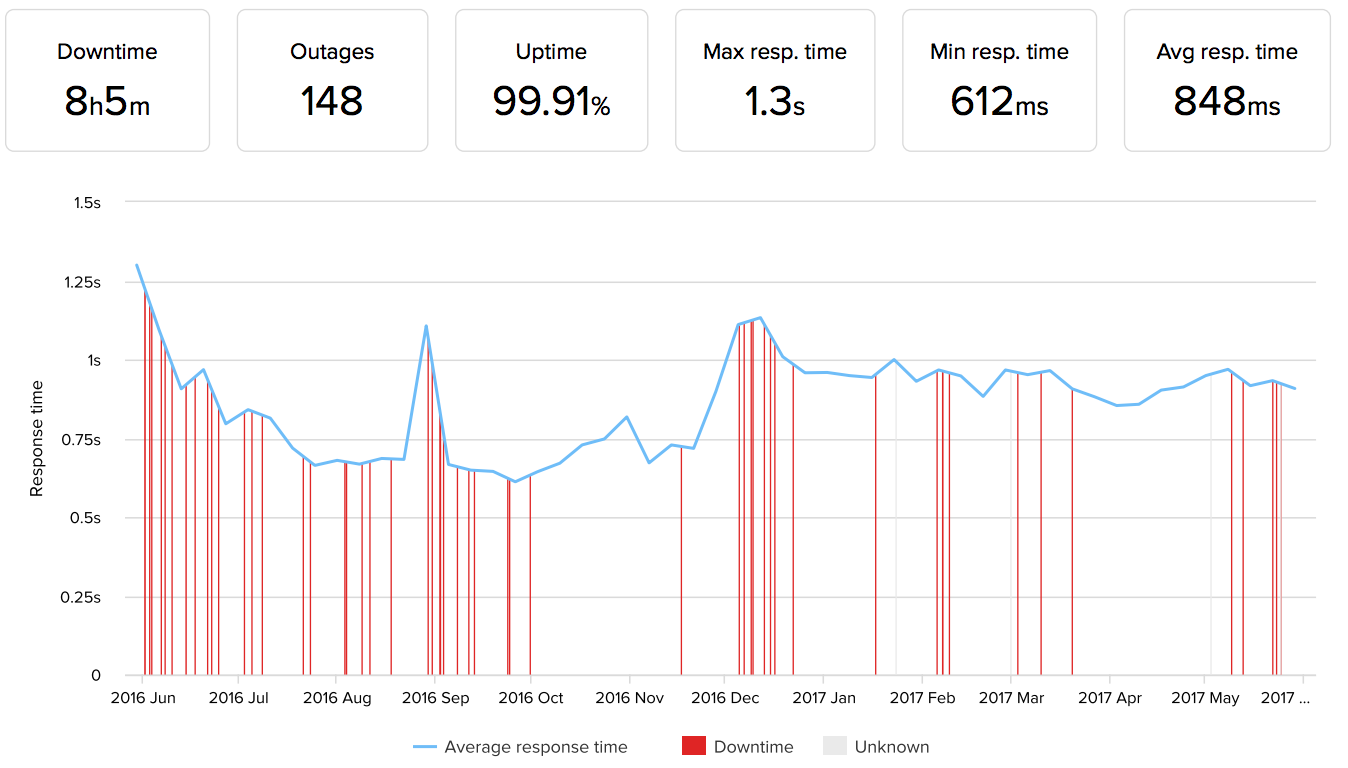 iPage: Page Load Speed and Uptime (Last 12 months, full data can be found here.)
2. Poor Page Loading Times
If their uptime wasn't bad enough, prepare to be amazed.
iPage's page loading times came in at 866ms, making it only about 22% faster than competition's average (1052ms). One month, they even hit over 2,000ms!
That's almost absurdly bad, especially when some of the best web hosts we've reviewed regularly deliver page loading speeds of under 500ms.
Here's the other problem.
Site speed isn't just a vanity metric. Slow page loading times negatively impact SEO, meaning lower rankings and less visibility, which = lower site traffic.
But if that's not bad enough, slow site speed can also tank conversions by causing people to leave your site in droves. For example, if your site fails to load under three seconds, 50% of your visitors will leave!
And considering iPage hovered around 2,000ms one month… that's a little too close for comfort.
Typically when a company gets acquired by a large conglomerate, they get access to more resources (read: more $$$) to reinvest.
However based on their performance so far, we're not exactly sure where that pocket change went. Perhaps for marketing?
Last 12 month average load time (2016 – 2017)
2016:
---
April average speed: 1,390ms
May average speed: 1,417ms
June average speed: 1,009ms
July average speed: 764ms
August average speed: 681ms
September average speed: 738ms
October average speed: 725ms
November average speed: 734ms
December average speed: 1,026ms
2017:
---
January average speed: 955ms
February average speed: 931ms
March average speed: 939ms
April average speed: 884ms
May average speed: 936ms
3. Expensive Renewal Costs
iPage advertises (and delivers) low 'promotional pricing' for plans of 12-36 months. They're honest and transparent about those rates, which is great!
But…
What happens when that plan period ends? Unfortunately, our investigation revealed that your costs will jump on up more than $8.99 when it's time to renew.
This 'renewal pricing' applies to ALL of their hosting plans, too.
That's a minimum jump of over 350%! Ouch.
And it ends up being MORE expensive than a seriously legit host (not one who's uptime is so bad and speed so embarrassing that you wonder how they remain in business).
4. Expensive Domain Names
Good news. iPage will throw in a new domain name with a 30-day money back guarantee for new account signups.
Only issue?
If you DO ask for your money back during that thirty-day window, they'll deduct a $15 fee for the domain name (even though those typically cost under $10 in most cases).
So technically, that free domain name and money back guarantee aren't so great (or free) after all.
5. No cPanel
Almost every single web host will let you use cPanel.
But not iPage. Instead, they go with lesser known cPanel alternative vDeck (Dreamhost is one of the only others to not use cPanel either).
This isn't ideal, as cPanel tends to be more user-friendly and up-to-date than vDeck for more sophisticated users.
Overview on iPage shared hosting plans
Here's a quick overview of the hosting plans offered by iPage:
Shared Hosting: iPage currently only offers one shared hosting plan called the 'Essential Plan'. This plan costs $1.99 per month when you first sign up and can cost up to $11.95 per month when it is time to renew your hosting.
Their shared hosting plan comes with unlimited storage, bandwidth, domain names and MySQL databases. It also comes with several integrations, apps and site builders like Wix.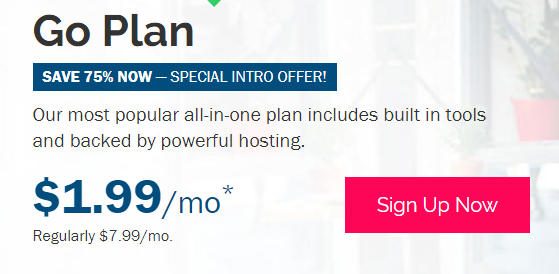 WordPress Hosting: They have two main WordPress hosting plans:
WP Starter: This plan costs $3.75 per month. It comes with a customized control panel, important plugins preinstalled and handpicked themes.
WP Essential: This plan costs $6.95 per month. It comes with all the features of the Starter plan, and it uses SSD-based infrastructure to boost site speed and performance. It has unlimited disk space and malware protection, and they claim it can handle millions of visitors monthly.

Quick Facts
Free domain? Yes.
Ease of Signup: Fairly easy sign up process.
Payment Methods: Credit Card, PayPal.
Hidden Fees and Clauses: Refunds only issued to Credit Cards, and they charge a $35 fee for early cancellation. Customers cannot use 'excessive' amount of CPU resources; although they do not specify what they mean by 'excessive'.
Upsells: Lots of upsells.
Account Activation: Quick activation.
Control Panel and Dashboard Experience: Easy-to-use vDeck control Panel.
Installation of Apps and CMSs (WordPress, Joomla, etc.): Easy installation of popular apps and CMSs via their control panel.
Do we recommend iPage?
iPage is cheap.
The support is decent.
But their uptime is terrible. Equaled only by slooooow page speeds.
In this case, you can't afford NOT to pay a tiny bit bit more to make sure your website is stable, quick, and effective.
Any experience with iPage Hosting? Please leave us your iPage review (positive or negative) – as long as it's transparent and authentic!